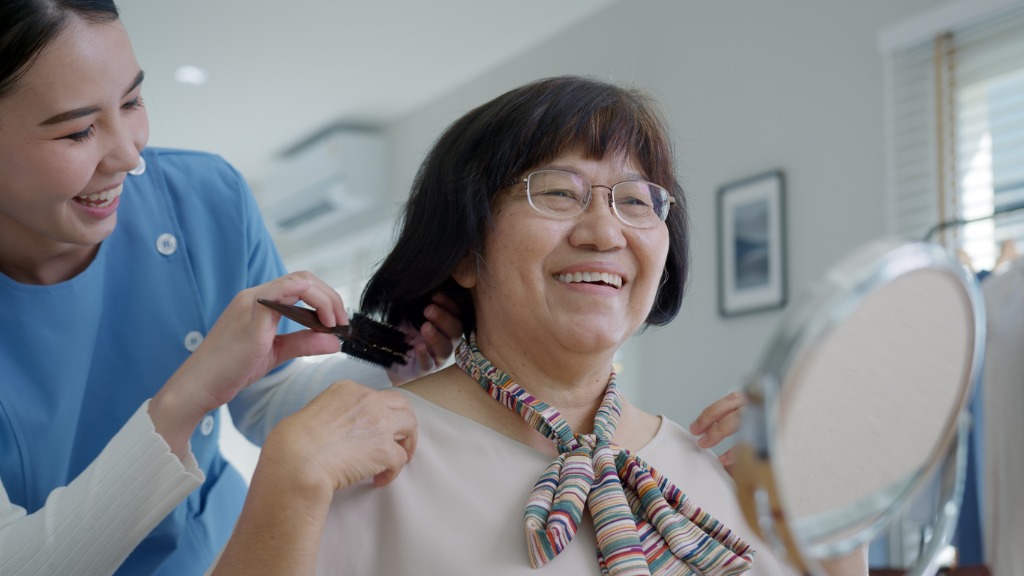 As the years advance, many seniors cherish the idea of gracefully aging in the familiar surroundings of their own homes. At I&Y Seniorcare, we understand the deep attachment to the comfort of home, and we're dedicated to making this desire a reality. Our comprehensive range of services is designed to offer elderly individuals the assistance they need, all while preserving the warmth and familiarity of their cherished homes.
The Advantages of In-Home Elderly Assistance
Preserving Independence
In-home elderly assistance allows seniors to maintain their independence and autonomy. They can continue to make decisions about their daily routines, activities, and preferences, which can contribute to a higher quality of life.
Creating a Familiar and Comforting Environment
Seniors often have a strong attachment to their homes, where they have created a lifetime of memories. In-home assistance allows them to remain in a familiar and comforting environment, which can reduce the stress and anxiety associated with relocation to a facility.
Providing Personalized Care
In-home caregivers can offer personalized care tailored to the specific needs and preferences of the elderly individual. This individualized approach ensures that seniors receive the level of care and attention they require, which may not always be possible in institutional settings.
Enhancing Emotional Well-being
Being in a familiar and comfortable environment, surrounded by loved ones and personal belongings, can have a positive impact on the emotional well-being of seniors. In-home caregivers often provide companionship and emotional support, reducing feelings of loneliness and depression.
Cost-effectiveness Compared to Other Options
In-home elderly assistance can be a cost-effective option when compared to the expenses associated with assisted living facilities or nursing homes. It allows families to save on facility fees while receiving personalized care for their loved ones.
These advantages highlight the importance of in-home elderly assistance as a viable and beneficial option for seniors who wish to age in place while maintaining their independence and quality of life.
I&Y Seniorcare: A Caring Companion
An Overview of I&Y Seniorcare
I&Y Seniorcare is a compassionate and dedicated senior care provider that specializes in improving the lives of elderly individuals. They are committed to offering high-quality care and support to seniors to ensure they can age comfortably and maintain their independence.
Their Dedication to Enhancing Seniors' Lives
I&Y Seniorcare is deeply committed to enhancing the lives of seniors. They understand the unique needs and challenges that come with aging and are dedicated to providing seniors with the care, companionship, and services they need to lead fulfilling lives in their own homes.
Introduction to the Services They Offer
I&Y Seniorcare offers a range of services designed to meet the diverse needs of elderly individuals. These services may include:
Companionship: I&Y Seniorcare provides friendly and caring companions who offer social interaction, conversation, and emotional support to combat feelings of loneliness and isolation.
Personal Care: They assist seniors with activities of daily living (ADLs) such as bathing, dressing, grooming, and mobility to ensure their well-being and comfort.
Medication Management: I&Y Seniorcare helps seniors adhere to their medication schedules, ensuring they take their prescribed medications on time and as directed by their healthcare professionals.
Meal Preparation: They can help with meal planning and preparation, ensuring that seniors receive balanced and nutritious meals that meet their dietary requirements.
Transportation: I&Y Seniorcare may offer transportation services, helping seniors get to medical appointments, run errands, or engage in social activities outside of their home.
Light Housekeeping: They assist with light housekeeping tasks such as cleaning, laundry, and maintaining a safe and tidy living environment.
Respite Care: I&Y Seniorcare provides short-term relief to family caregivers, allowing them to take a break while ensuring that their loved ones receive the care they need.
Specialized Care: Depending on individual needs, they may offer specialized care services for seniors with specific medical conditions or memory care requirements.
Comprehensive Services Offered by I&Y Seniorcare
Personal Care Assistance: I&Y Seniorcare assists seniors with activities of daily living (ADLs), including bathing, dressing, grooming, toileting, and mobility support.
Medication Management: They help seniors manage their medications, ensuring they take prescribed drugs as directed by their healthcare professionals.
Meal Planning and Preparation: I&Y Seniorcare aids in meal planning and prepares nutritious and balanced meals that cater to seniors' dietary requirements.
Housekeeping and Errands: They assist with light housekeeping tasks, such as cleaning, laundry, and running errands, to maintain a safe and tidy living environment.
Companionship and Mental Stimulation: I&Y Seniorcare offers companionship, engaging in social interaction, conversation, and activities that provide mental stimulation to combat loneliness and isolation.
Transportation Services: They provide transportation assistance, ensuring seniors can attend medical appointments, run errands, or participate in social activities outside their home.
Respite Care for Family Caregivers: I&Y Seniorcare offers respite care, giving family caregivers a much-needed break while ensuring seniors continue to receive the care they require.
Specialized Dementia Care: They provide specialized care for seniors with dementia, focusing on their unique needs, safety, and emotional well-being.
24/7 Availability: I&Y Seniorcare may offer 24/7 availability, ensuring seniors have access to care and assistance around the clock, including in emergencies.
Customized Care Plans: They create personalized care plans tailored to each senior's specific needs, preferences, and health conditions.
Hospice Support: I&Y Seniorcare can provide hospice support, offering compassionate care and comfort to seniors facing terminal illnesses, as well as emotional support to their families.
Conclusion
I&Y Seniorcare understands that every senior is unique and may require different levels of support to maintain their quality of life and independence. By offering a wide range of in-home services, including companionship, personal care, medication management, and more, I&Y Seniorcare strives to meet the individual needs of each client. Their compassionate and dedicated caregivers enable seniors to age in place with dignity, comfort, and peace of mind, all within the familiar and cherished surroundings of their own homes.